Displayed Reality
Graduation project at Design Academy Eindhoven
Exhibited at Dutch Design Week 2019
My Role
Trend Research&Analyze, Video
A video exploring the blurry line between reality and advertisements of user generated makeup contents on YouTube.

This project reflects on current social media influencer marketing in the beauty industry and how brands are promoting their products subconsciously to ad-resisting millennials.

Keywords: Influencer, Millennial, Advertising, Trust
• Create an installation that opens discussion about the way of consuming advertisements through YouTube thesedays.

---
Online Survey

I've conducted an online survey to know about the beauty YouTuber's impact on viewer's buying intention. I've gotten 80 responses. The participants with age between 19 to 35, watching beauty contents on YouTube in regular bases.



Analyze of 'Get Ready With Me' user generated contents

I narrowed down my focus to 'Get Ready With Me' contents made by micro influencers. The goal of the observation is to find out how a trustworthy relationship can be built between influencers and their audiences. I've found similar body language, setups and words for building honesty and trust. Those characteristics are summarized below.
• Membership
Friendly and welcoming atmosphere is essential part of building membership with the audience.
• Relatability
Sharing personal life and fun chitchats make audience to relate with them easier.
• Professional
Useful makeup tips and demonstration is important for fulfilling audience's expectation.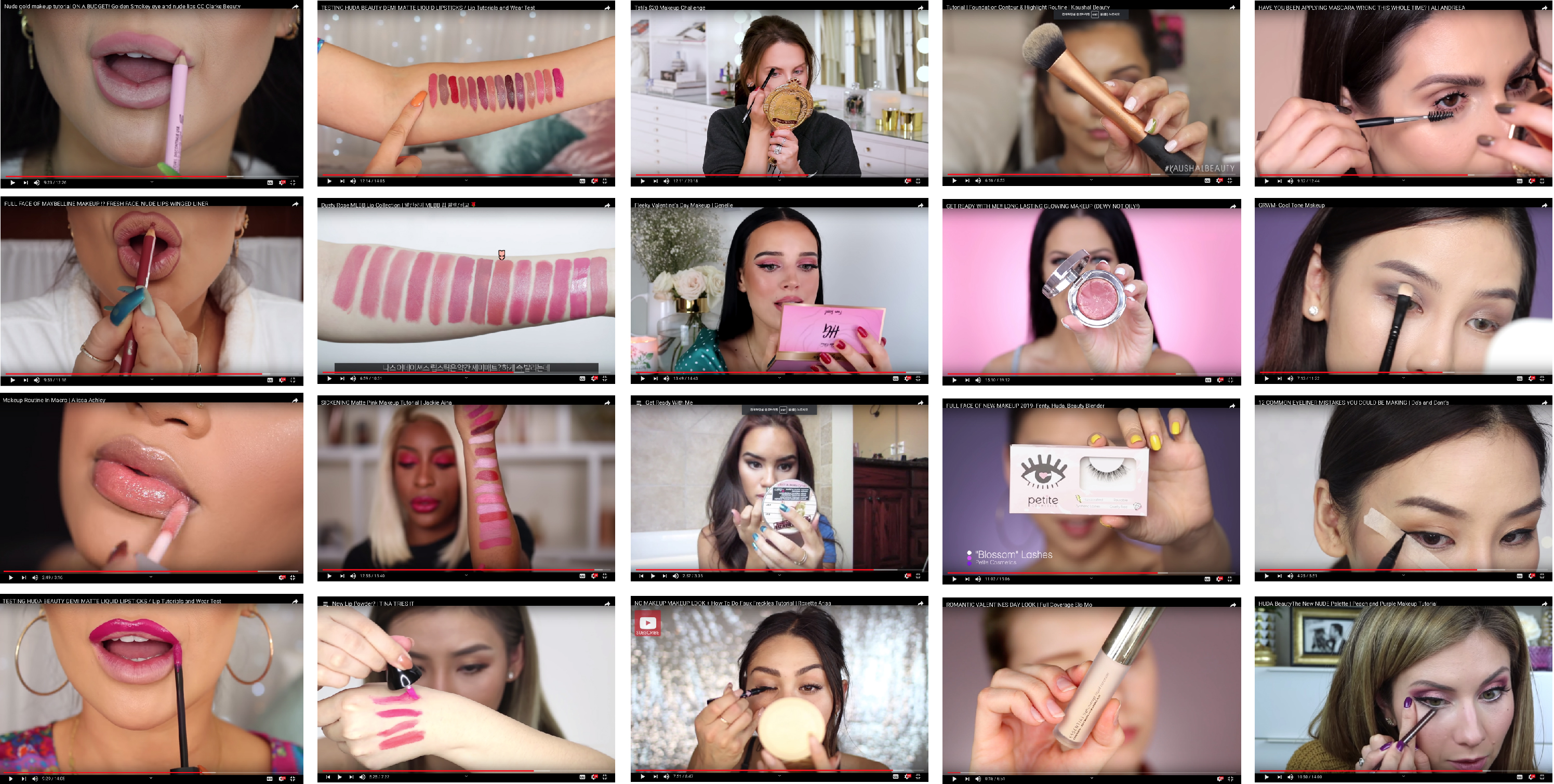 • Attractiveness
Posing with confident face and gesture adds the aesthetic value.
• Credibility
Some words are frequently spoken in common which increase the credibility about the products.
---
After research, I decided to use those found patterns as an elements of visualization. I collected 88 'Get ready with me' user generated makeup videos. And then edited in a way to highlight the moments of hidden advertisements by repeating and exaggerating them.

The final outcome is the collection of videos that are simultaneously displayed on a screen, all showing women in the process of applying makeup while talking about their personal lives. This video raise questions toward audience about the blurry line of advertising that are displayed as a reality.

︎Exhibition view at DDW 2019